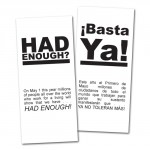 On May 1 this year millions of people all over the world who work for a living will show that we have . . . had enough!
We've had enough of manipulated markets, phony inflated prices, lost savings, stolen pensions, and worthless or foreclosed homes.
We've had enough of healthcare we can't afford, of being one major illness or injury away from bankruptcy.
We've had enough of being priced out of education, while our teachers and other public workers are blamed for the problems.
We've had enough of endless wars . . . [Read more here]
---
March 28: We've modified the brochure so it
points readers to the website for unfolding events
mentions Occupy-Denver-sponsored 12 noon rally, 12:30 march, and afternoon fair @ Civic Center
has a space for you to write your own contact info
Download the complete brochure in English and Spanish here.
It is designed to be folded in a "Z" and is suitable for taking door-to-door, meetings, etc. This version does not include P&L Printing's union bug. If you need some with the bug, visit the P&L Press Infoshop, 11 am – 7 pm, Tue – Sat, 2727 W. 27th Ave., Unit C.
The Infoshop, where we've been holding our Tuesday meetings, is a great resource. For more on it, see: